Over the last few years bit by bit we have been renewing the hawthorn/blackthorn hedge along Manor Farm Road from the Sports Pavilion Car Park as far as the mini-roundabout. On Wednesday 4th March we planted some 300 more whips, completing the final lengths which had been prepared by the Parks Dept of invasive weeds etc and filling in gaps where last year's whips had not taken. We have a few whips left to thicken up some areas, to provide a really strong barrier. Hawthorn and blackthorn produce lovely flowers from late winter through to late spring. The Woodland Trust says the value to wildlife is immeasurable supporting more than 300 insects including many moth caterpillars. The flowers provide nectar and pollen for bees and other pollinating insects. The haws are rich in antioxidants and are eaten by migrating birds as well as small mammals AND the dense thorny foliage makes a fantastic nesting shelter for many species of bird. Our grateful thanks to personnel from the Parks Dept for their help on the day and to Southampton City Council for providing the plants and chestnut fencing.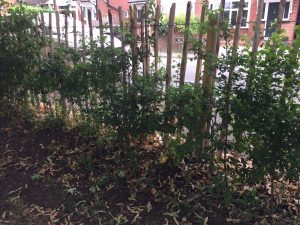 A section planted 3 or 4 yrs ago & developing nicely.
Flowering trees planted in Cobden Meadows thanks to generosity of McCarthy & Stone
In the autumn of 2019 thanks to a very generous donation of £500 from McCarthy and Stone, 11 flowering trees were planted in Cobden Meadows and on the bank by Cobden Bridge.
We also wish to thank Southampton City Council for providing Parks Department personnel to help plant the trees. These trees range from flowering Hawthorn (Crataegus) both pink and white varieties, Crab Apples (Malus) to flowering Cherries (Prunus). Not only will these provide a changing show of blossom  throughout the spring and berries in autumn but are excellent trees for supporting birds, bees and other pollinating insects.
Click on the Tree Planting Map link for further information.
Riverside FORP Tree Planting Map 2019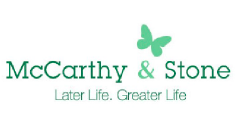 Tree Trail
Due to Covid 19 this has taken longer than anticipated to put into reality but the first ten trees have been identified and information about each tree is already available on the Tree Trail section of the main menu. Click on each species to find out more about the tree and the wildlife it attracts.
Bulb Planting 2019
On Wednesday 30th October a group of Friends of Riverside Park planted hundreds of bulbs along the bank at Cobden Bridge. We are looking forward to a grand show to welcome the spring.
Litter Picking 2021
The Litter Picking for April starts the season. This is a strictly individual/bubble event and social distancing must be maintained.  Next meeting Saturday 3rd April 2021.  Disinfected equipment will be available between 9.50 and 10.10 at the Sports Pavilion.  Please don't all arrive at 10.00. and choose your own route. Instructions on leaving full bags and equipment will be given on the day. For all events, please click HERE.
Sadly the Pitch and Putt has ceased operations. We welcome your views for future uses of the area to discuss with Southampton City Council.
Our Action Plan for the future soon
Link to Riverside Park Management Review 2014-2019 – here.
For previous Newsletters go to Home Page and scroll down