The Park rests in Southampton beside the River Itchen's tidal saltwater Estuary as well as beside the old freshwater Navigation Canal. There are three Car Parks off Manor Farm Road and one large Car Park off Woodmill Lane where both sides of the Park meet.
Please respect the park, its users and its wildlife and dispose of your litter and dog faeces responsibly in the bins provided.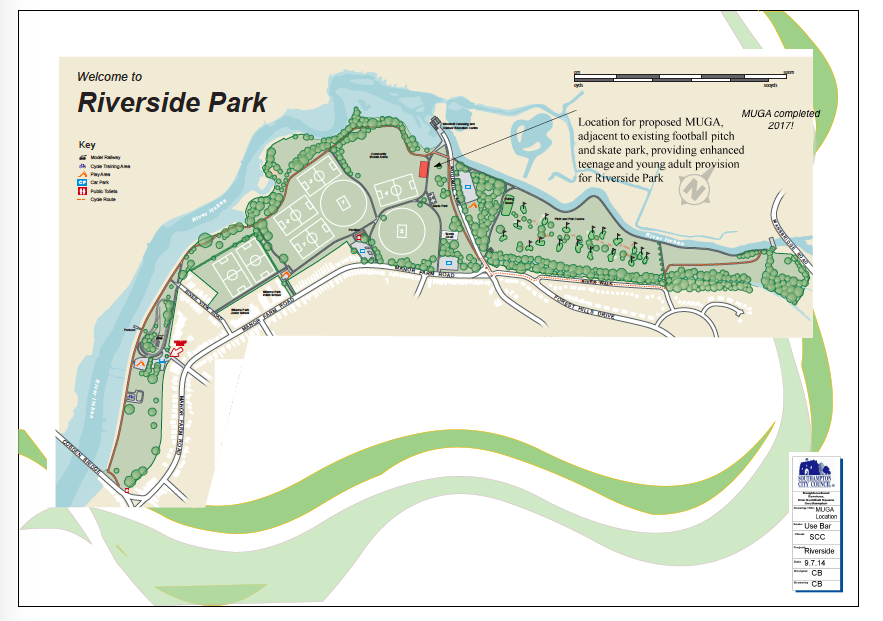 The saltwater Estuary area has two well appointed children's play areas. A cycle training layout complete with road signs, junctions and Zebra crossing. A miniature Railway system suitable for all ages to enjoy (there is also a special needs car available for 2 wheelchairs or a disability scooter).
Flat well maintained footpaths with easy access.
There is a Multi Use Games Area marked out for various sports, including skateboarding, tennis, football and cricket. Tennis courts are also available at the same end of the park.
The Navigation freshwater area has one well appointed children's play area. Flat well maintained footpaths with easy access.
Both areas have magnificent views that change with the seasons, a rich variety of wildlife including swans and ducks to feed. The most common gulls here are the smaller squabbling Black Headed Gulls (only black headed when mature). There is an increasing population of black swans. Very popular for family days out, safe for joggers, walkers, nature study and fishing. Occasional other visiting birds are Little Egrets and Kingfishers.
Tree Trail: coming 2020